Start with Stockbit
Oct, 3 2022 By Stockbit
Hello Stockbitors!
We hope to share you some simple tips and tricks when you start using our platform!
STARTING STOCKBIT
How to access Stockbit? Stockbit is available on WEB & APP - access our website www.stockbit.my or download our APP through Apple Store / Google Play.
Navigating a new platform can be tricky. Platforms have unique features that are difficult to understand at first. Stockbit is built to deliver the ideal user experience by providing you with essential features that are easy to follow. With Stockbit, you can receive trending news about the market by following users and posts, curate content about companies, and track stock investments. Through this post, we hope to guide you through exactly how to do that on our platform!
FOLLOW USERS/STOCKBITORS
Looking for guidance on your investment journey? Stockbit offers one of the best platform for investors to share their thoughts about the market. By following fellow investors, you can discuss the latest happenings of the market, get insight into stock market trends, and better invest in companies.
How to follow a user on Stockbit:
Search the username using the search engine or check out the list of suggested users

Hit the green "Follow +" button or "+" button next to the list of users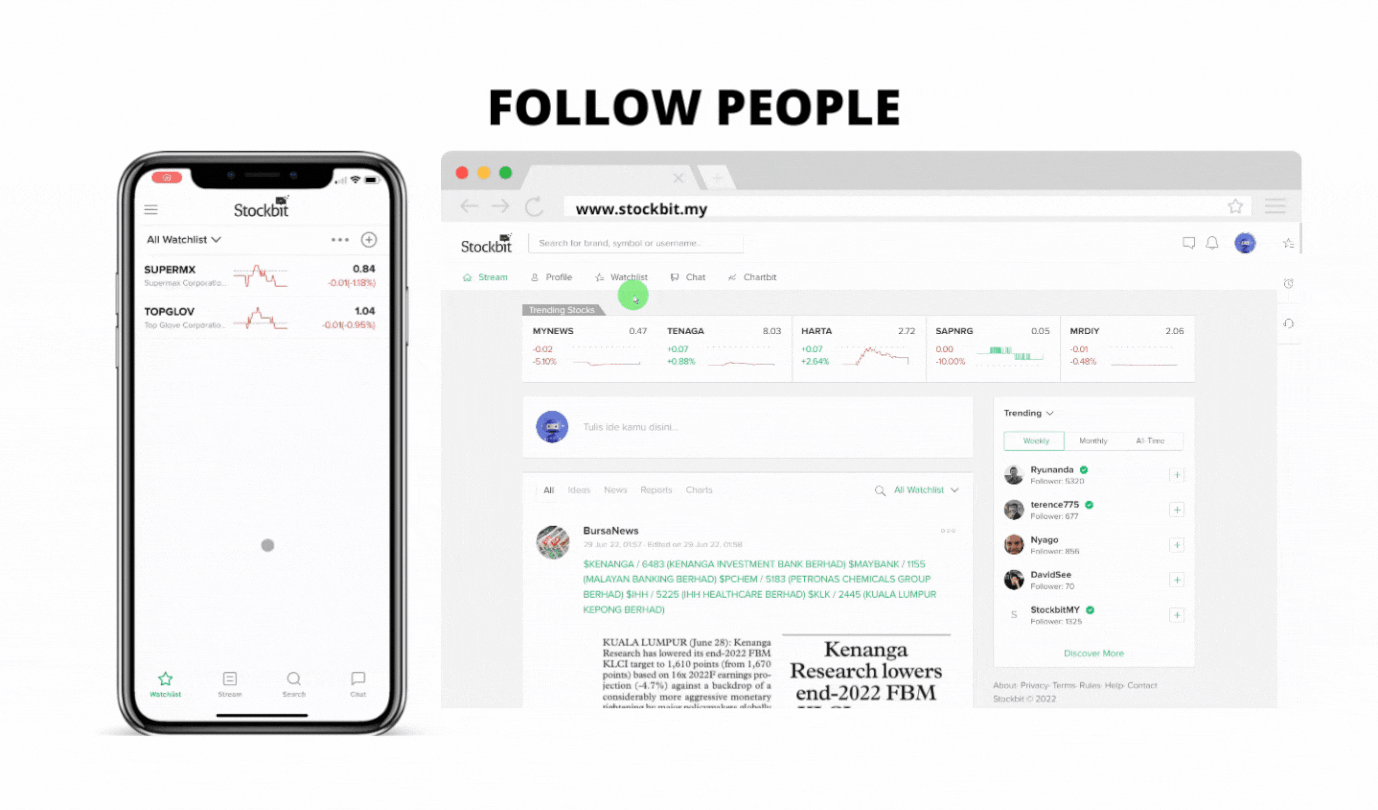 Tip 1: We recommend following these admin accounts to gain access to reports/events:
BursaBuzz

- Our team shares

ANALYST REPORT

daily here!

StockbitMY

- Keep up to date to

INVESTOR BRIEFING

events through our admin account.
Tip 2: If you're looking out for top Stockbit contributors, you can check out our "Discover People" feature: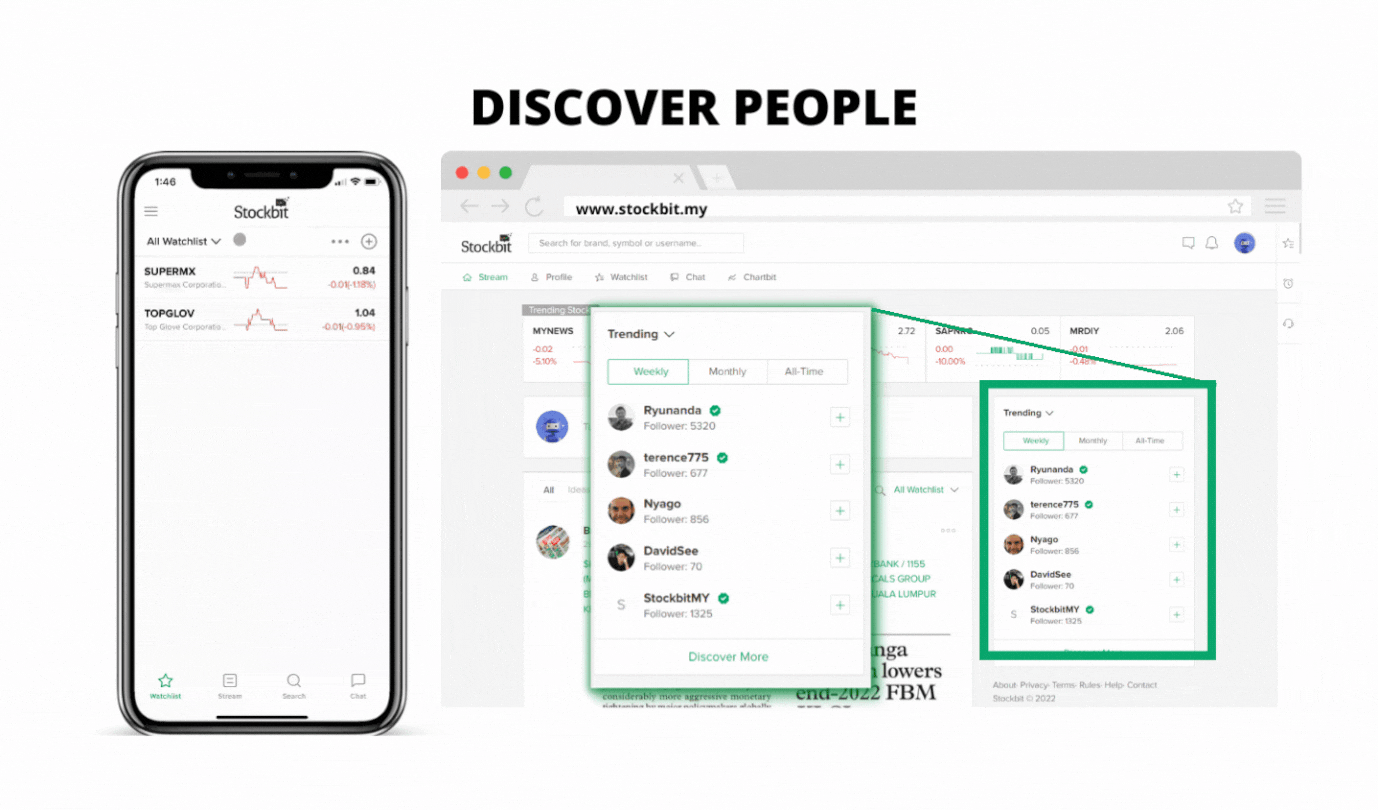 SAVE & FOLLOW POSTS
Exciting market news is posted on the Stream feed everyday. Company decisions are not stagnant. There are times when a company announcement can change its entire structure and affect market prices. With any post on the Stream feed, you want to be able to keep track of the discussion overtime. Stockbit allows users to follow posts and stay in the loop about what's happening with different companies or investors.
How to save & follow a post:
Search for the post you'd like to follow

Click on the "Additional" option located in the top right of the post

Hit the "Save" & "Follow this post" button

Save - stores the post in your profile so that you can refer it next time

Follow this post - receive notification if anybody replies to the thread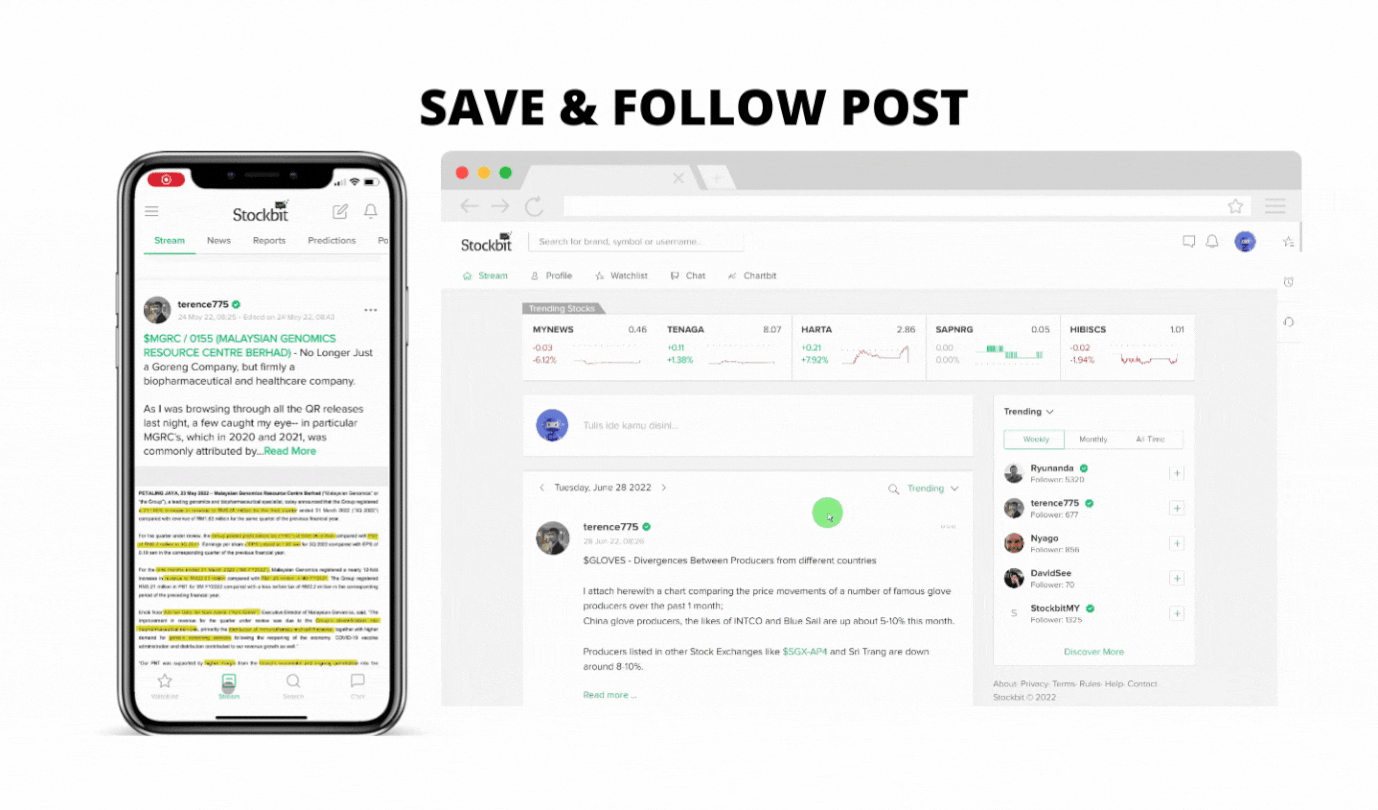 FOLLOW COMPANIES
The company you invest in has a big stake in your market gains. For investors, monitoring a company gives you the best indication of when to buy or sell. Through Stockbit, you're able to keep an eye on important company announcements, current stock market prices, and company decisions by following them on the platform. The best way to follow companies is through our Watchlist feature. Watchlist is a function that helps you keep track of specific counters in the market. For more information on our Watchlist feature, check out our blog post here.
How to follow a company:
Navigate to the watchlist tab on our website or app

Search the company's market index through the Watchlist search engine

To add the company to your watchlist, simply press enter after searching the company name (PC) or add the company by hitting the star (APP)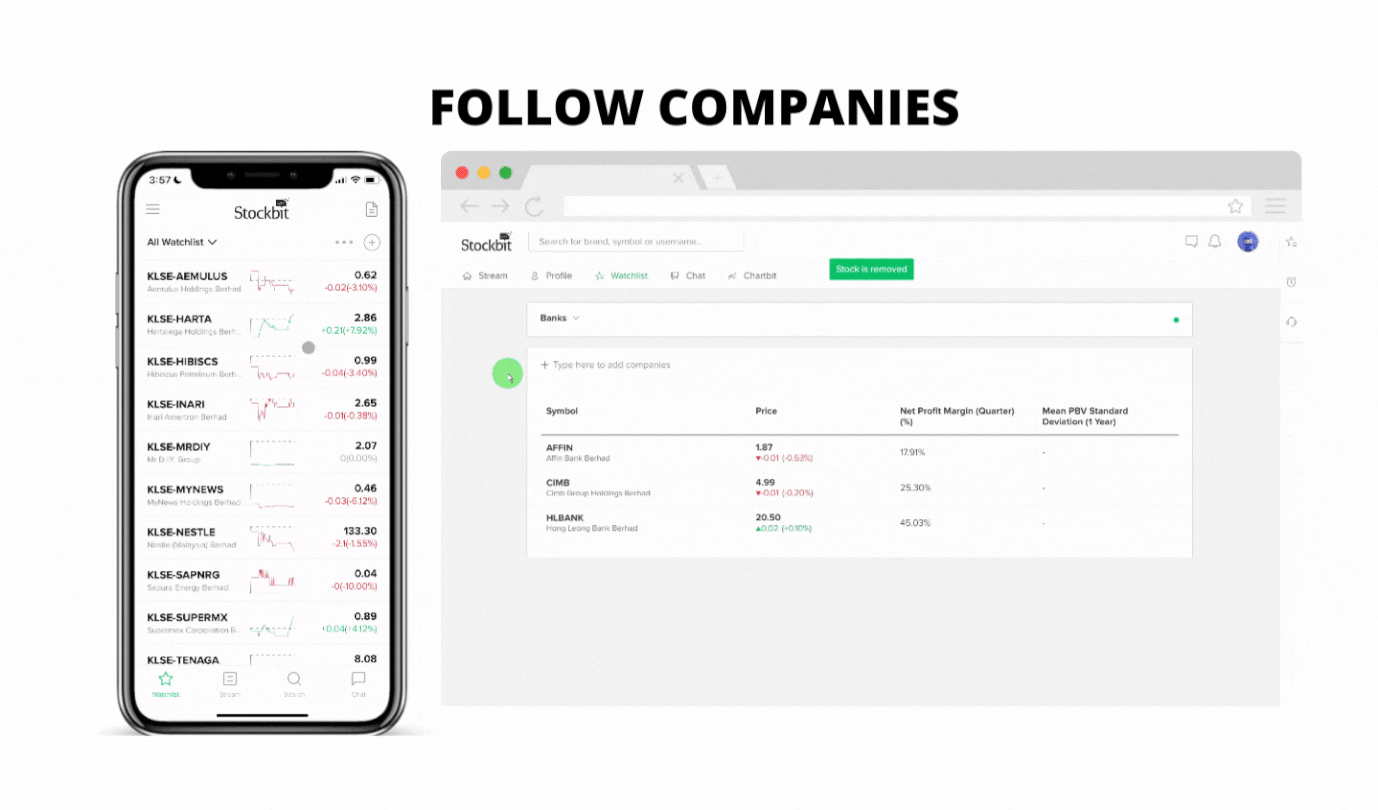 HOW TO POST ON STOCKBIT
Posting on Stockbit delivers valuable information about the market directly to our users! Stockbit ideas are arguably the most important part of our investment community. So, how can you make an impact? You can post your ideas, predictions, and polls on our Stream feed! Posting on Stockbit can be done by simply drafting out your ideas out in the text box at the top of the Stream feed. For more information on how to post, check out our "How to: Post" blog here.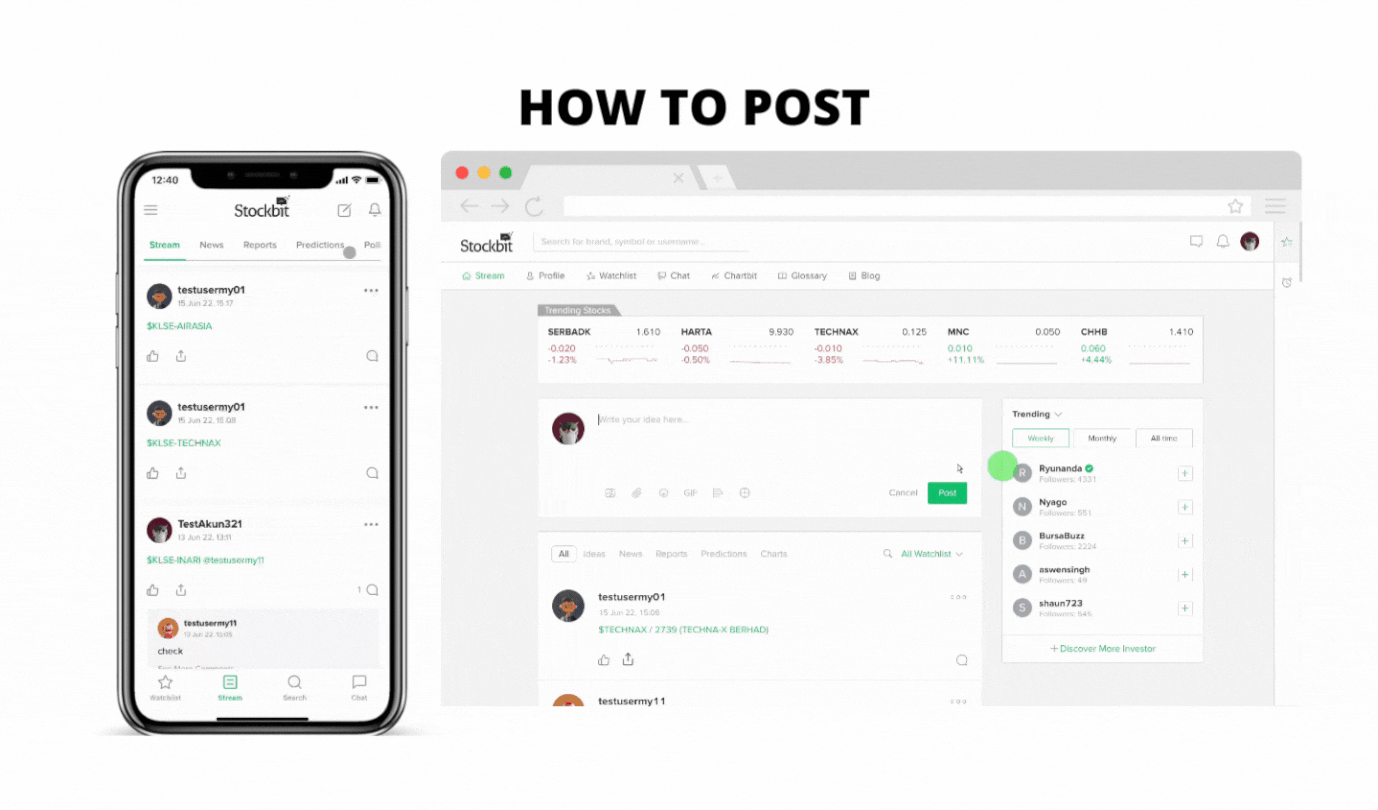 TRACK & ANALYSE COMPANIES
As an investor, you're looking for an all-in-one platform that allows you to keep track of your investment, buy & sell stocks, and analyze market trends. Stockbit provides you with all the resources you need to make the right investment. By using financial analytics tools such as key stats, seasonality, or financials, you can gain perspective on a company's background and future prospects. To understand how to better analyze companies through Stockbit, access our blog "How to: ANALYZE COMPANIES" here.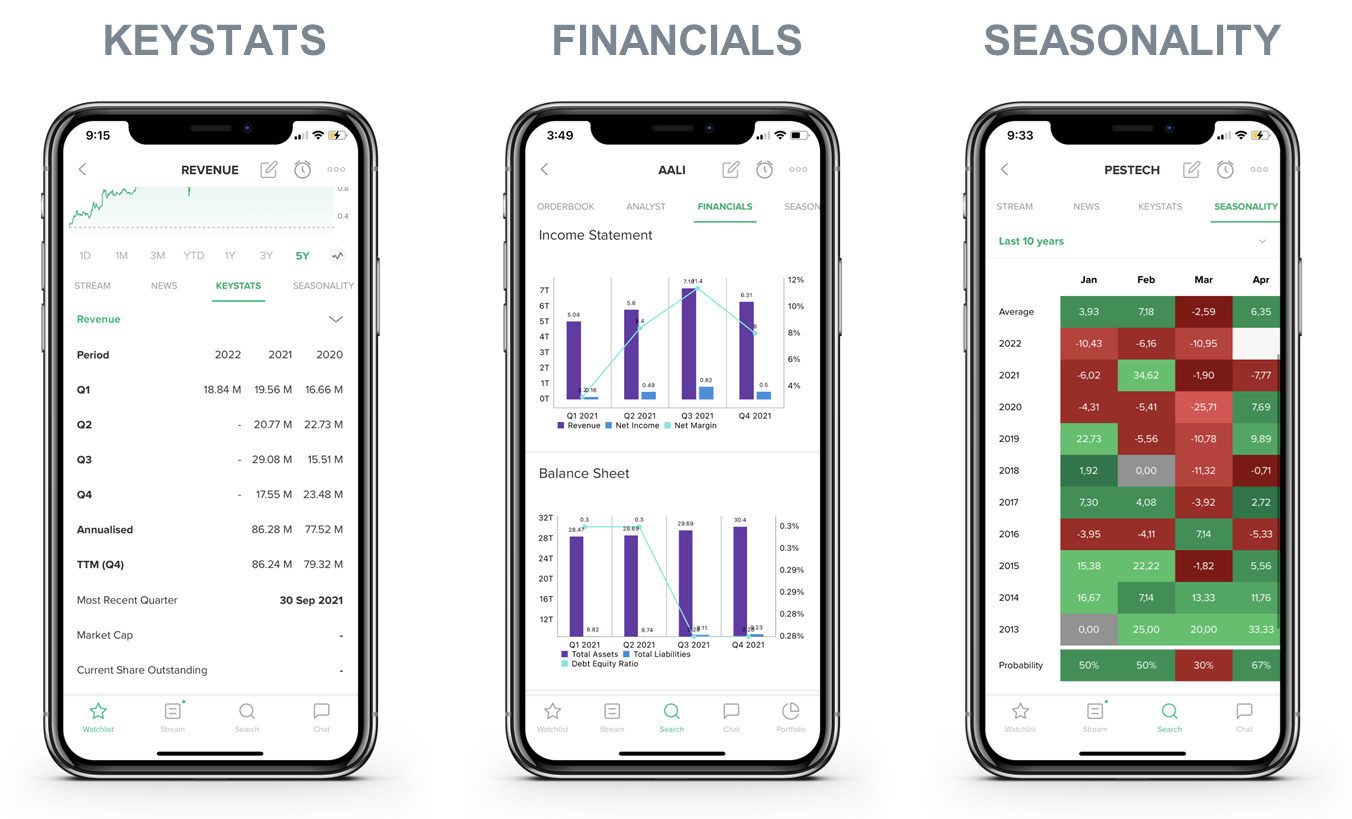 CUSTOMIZE ALERTS
Tracking the stock market for price changes can be tiring. Price fluctuations can happen at any moment so investors always need to be prepared. Stockbit provides you with the ability to monitor your investments through price alerts. By turning on price alerts for specific stocks, you can rest assured that you will be the first one to know when a stock's price drops or rises. Stockbit allows you to customize your notification settings for desktop & mobile.
How to turn on price alerts:
Search the stock that you want to create a price alert for

[PC] Along the side panel, click on the option that reads "Price Alerts"

[APP] Under the company profile, there's an "Alarm" button on the top right of the page

Input your settings to get a notification when price hits certain thresholds.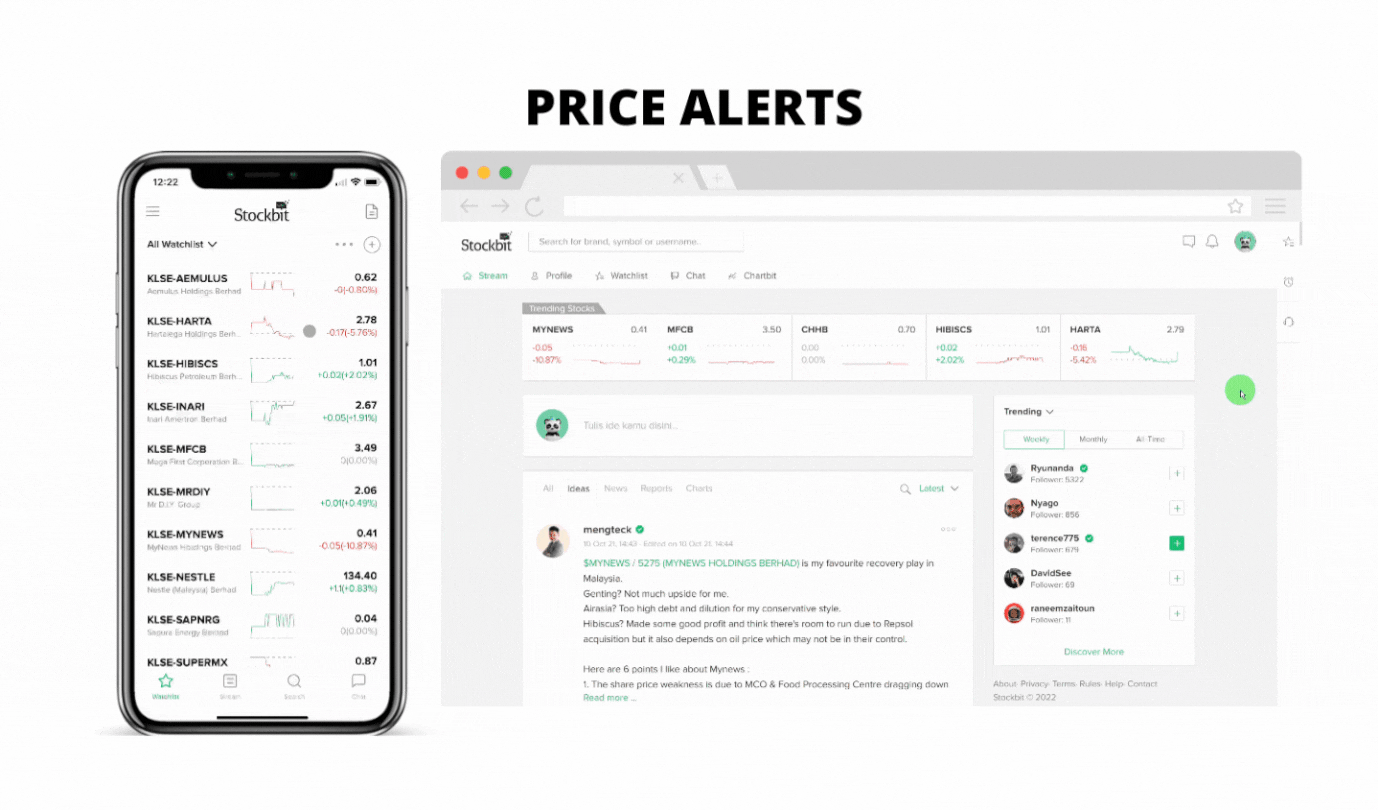 How to customize your notification settings:
Go to "Settings" on DESKTOP/APP, then select "Notifications"

Select the types of notifications that you want to turn on/off

You can customize settings in (i) Mobile (ii) DESKTOP (iii) Email
Tips: If you want to turn off our news scrapper notification (KLSEnews), follow the GIF below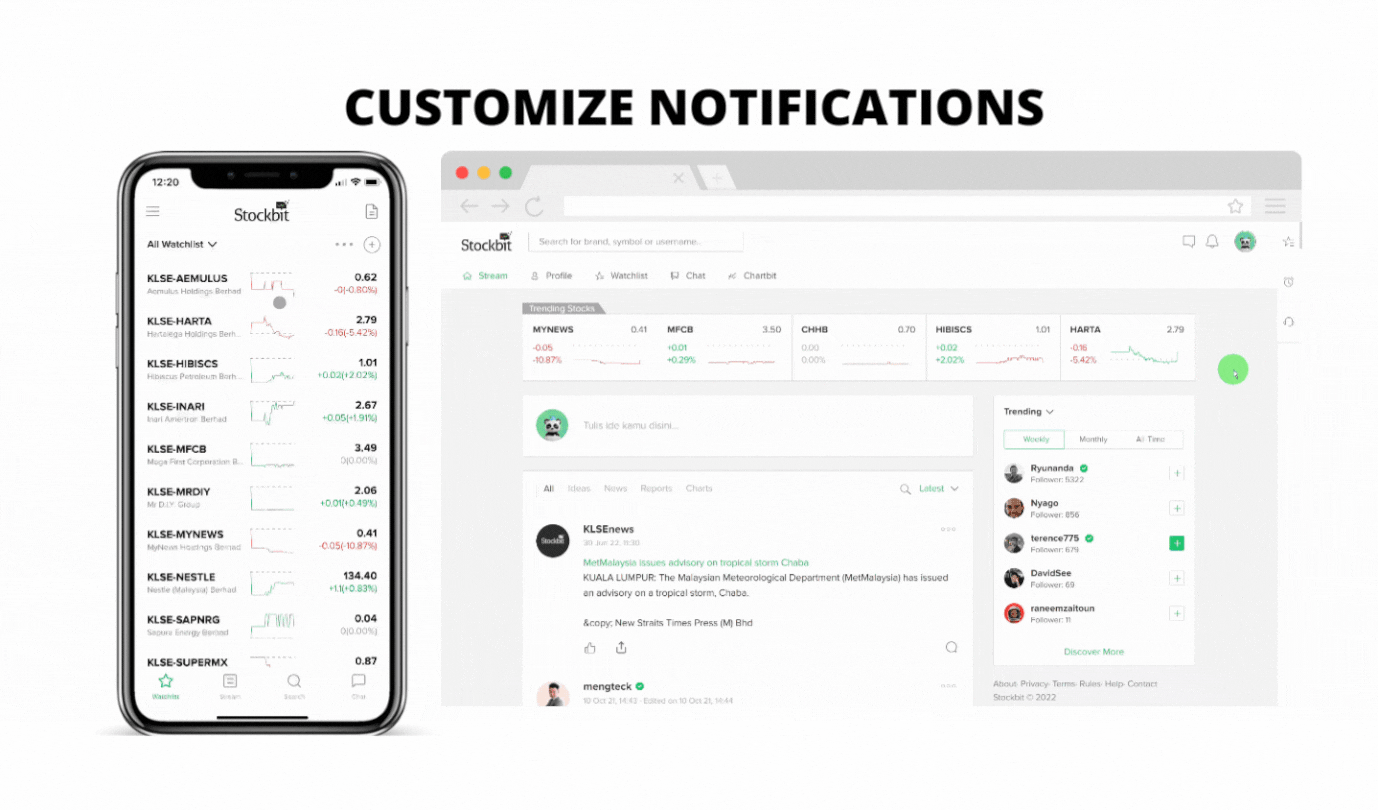 Stockbit plans to bring you more features in the future and we hope you are intrigued with the things we've shared in this article. If you haven't tried out our platform already, why miss out? There's lots of discussions ongoing today and our valuable content is FREE for everyone! Find us on www.stockbit.my or download us on Apple Store & Google Play!