Introducing Stockbit
Oct, 3 2022 By Stockbit
Hello Stockbitors,
Welcome to Stockbit! We invite you to take 3 minutes to learn about Stockbit and our aspirations in Malaysia!
BACKSTORY
Stockbit was founded in 2012 and, over the last 10 years, Stockbit has grown to become a market leader in the Indonesian fintech space. Stockbit entered the Malaysian Market in 2018 and we have continued to grow our presence by (i) curating relevant investing content on our platform and (ii) connecting retail investors with like-minded individuals.
INTRODUCING STOCKBIT
When Stockbit was first founded, we sought to empower retail investors by coupling three main functionalities. Our platform was built using these as the main pillars to address various problems in the investing world:
VIBRANT INVESTING COMMUNITY Today, the investing community in Malaysia is fragmented, we hope to connect different classes of investor together through our social networking solution. During the COVID-19 pandemic period, we have heard people losing wealth during the market sell-down. Through our platform, we hope to keep retail investors informed about the market and avoid making impulse investment decisions.

INFORMATION TRANSPARENCY Starting your investing journey can be difficult, it is especially so when relevant information is scattered across the internet. We designed features to organise three key pillars of investing information (i) stock market financials (ii) analyst research reports and (iii) media news. Finding a modern platform that encompasses these features is not easy and usually comes with a hefty subscription fee. In Stockbit, we hope to establish ourselves as a FREE financial educational platform and we hope to champion this information transparency movement.

ALL-IN-ONE PLATFORM Beyond the community and information aspects, Stockbit has spent many development hours to integrate ANALYTICAL aspects in the platform. We have integrated features to allow users to research public companies seamlessly. With Stockbit, we hope to become a one-stop solution to offer you (i) a vibrant community to exchange ideas (ii) relevant financial information and (iii) analytics to screen through public companies.
FEATURES IN STOCKBIT
STREAM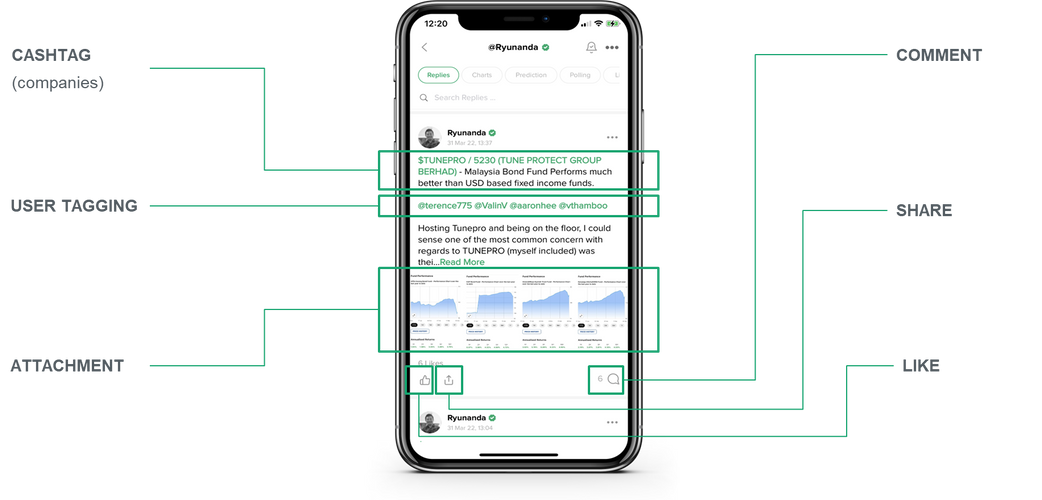 STREAM, Stockbit's version of a news feed. Through many iterations, we have designed features to create a "social networking" platform catered to investors. Engage with the community using basic functionalities such as commenting and attaching reports or your investment thesis. Stockbit being a mobile-first platform also allows you to engage with the community on-the-go with our app!
For the general public, researching a public company can take time. With stream, we hope to reduce information barrier by connecting you with the community. Why spend hours to search through multiple websites to learn about a company when you can gain access to summarised investing journals shared by other Stockbitors.
Beyond the basic functions, we have integrated features such as "predictions" and "polling" to empower users to engage with others. With stream, you can even search through treasure troves of historical articles on markets/investment ideas.
WATCHLIST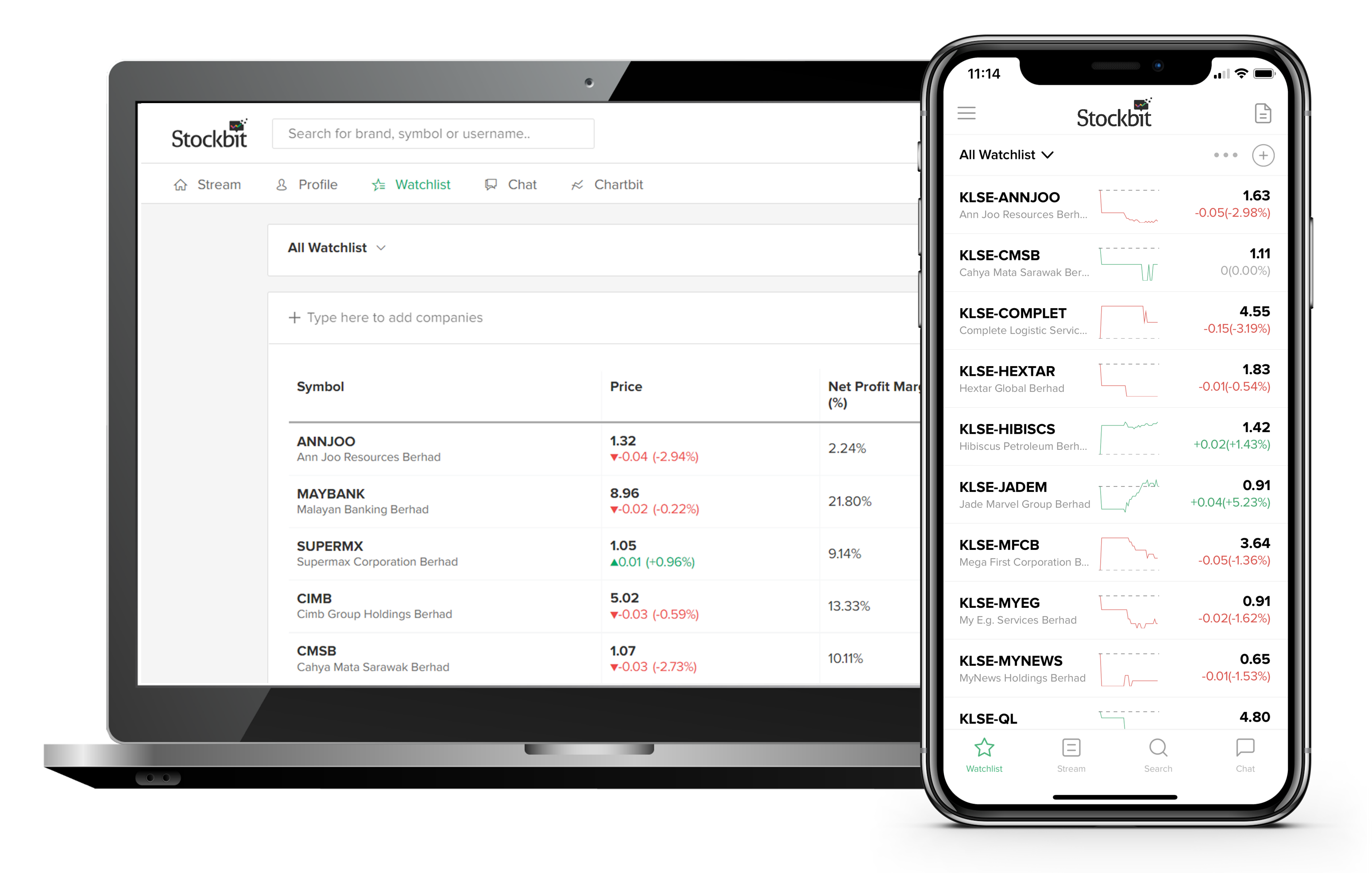 Keeping track of your watchlist and getting timely updates about price movements is crucial for any investors. Make use of our watchlist which has access to over thousands of public companies listed on Bursa Stock Exchange. We empowered our users by offering features to:
⁠(i) organise companies into multiple watchlist groups
⁠(ii) compare financial metrices (i.e. PE ratio, dividend yield) across multiple companies.
FINANCIAL ANALYSIS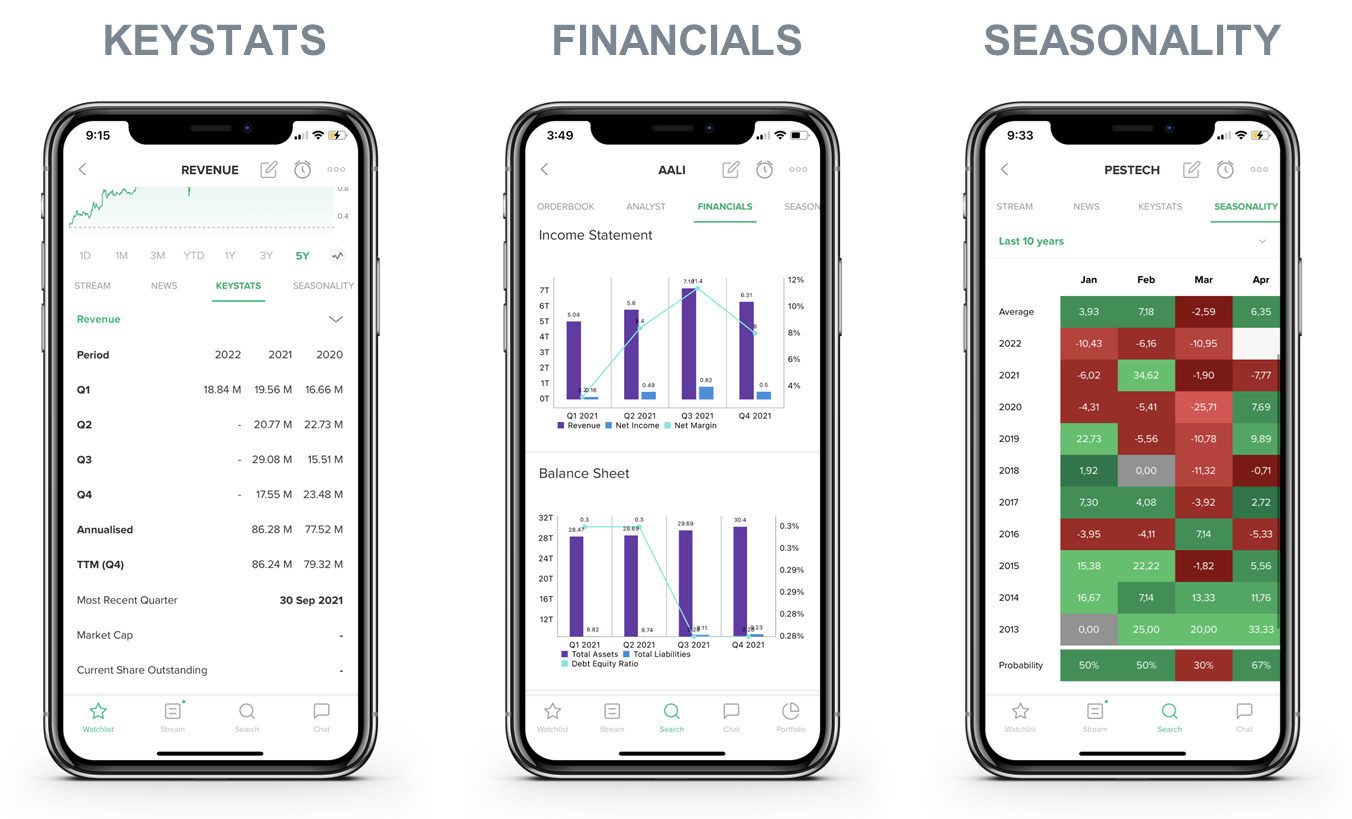 Stockbit's value comes from the financial analytics it delivers to users looking for guidance on their trading journey. The platform offers a full suite of analytical tools for retail investors i.e. Keystats, Financials and Seasonality.
With Keystats and Financials, users will be able to receive the latest financial data for public listed companies to aide their investment decisions. Why spend hours to gather financial data from multiple quarterly/annual reports when Stockbit has them readily available?
In order to make data more meaningful for users, we've built visual tools like Seasonality to show a stock's relative performance during specific months/years — this is helpful for traders who are identifying cyclical periods. Stockbit is here to serve both long-term investors and swing traders!
SIMPLIFYING YOUR INVESTMENT JOURNEY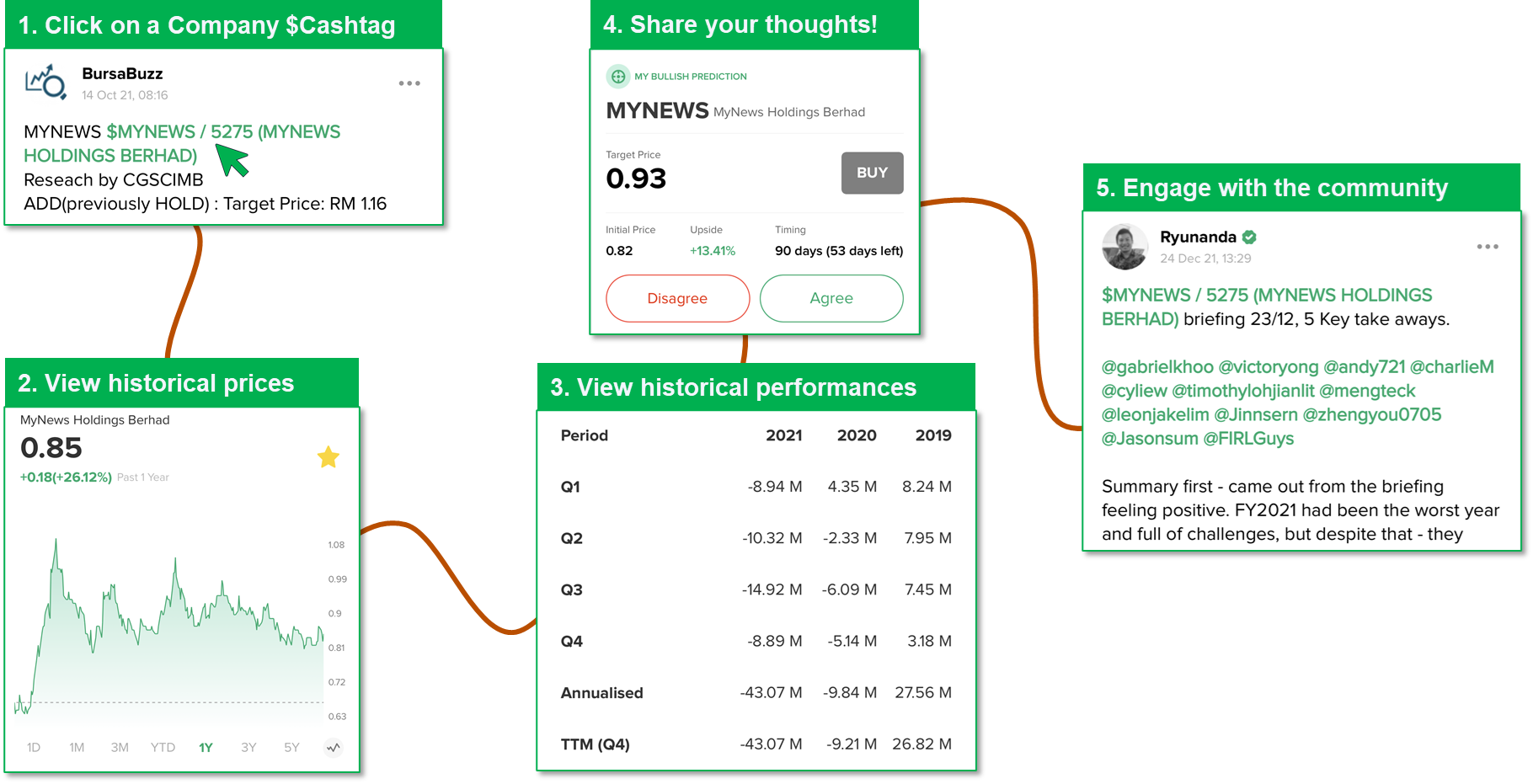 We hope to offer functional features for Stockbitors. We strongly believe that investing journey can be simplified with the right access to like-minded community and tools. We've designed our platform to connect you from one feature to another seamlessly.
Stockbit plans to bring you more features in the future and we hope you are intrigued with the things we've shared in this article. If you haven't tried out our platform already, why miss out? There's lots of discussions ongoing today and our content is FREE for everyone! Find us on www.stockbit.my or download us on Apple Store & Google Play!
Tagged as:
Invest
/
Last updated:
Oct, 3 2022