How To: Stream
Sep, 26 2022 By Stockbit
Hello Stockbitors!
Welcome to our How-To introduction series. Our series are designed to be short and sweet, it should take no more than 2minutes to digest this blog :D. We'll be sharing with you tip and tricks to navigate Stockbit's feed page - STREAM.
THE WORKS
Today, there are many social network platform alternatives to share your thoughts about investing related topic. What sets Stockbit apart is the community that we've built - a community of seasoned investors and traders who are willing to share their thoughts about the market. Stockbit has been in Malaysia since 2018, we have 4years of idea catalogue in our platform!
To build this community and backlog of ideas, Stockbit focused heavily on our core feature -STREAM. Stockbit STREAM is a newsfeed where you can share your thoughts about certain company/market. We integrated many features to ease information sharing/gathering i.e. Cashtag, Price Predictions, Polling and Search.
"There are limited alternatives in the market which mimics what Stockbit Stream offers."
- Arun, Stockbit User
FEATURES IN STREAM
SEARCH
Looking for news that happened a week ago? Our Stream feature enables users to look up historical news, reports and posts. Although simple, this function is especially helpful for retail investors looking to scan through market events based on keywords i.e. looking up research reports for specific companies! Check out articles/ideas we have in Stockbit!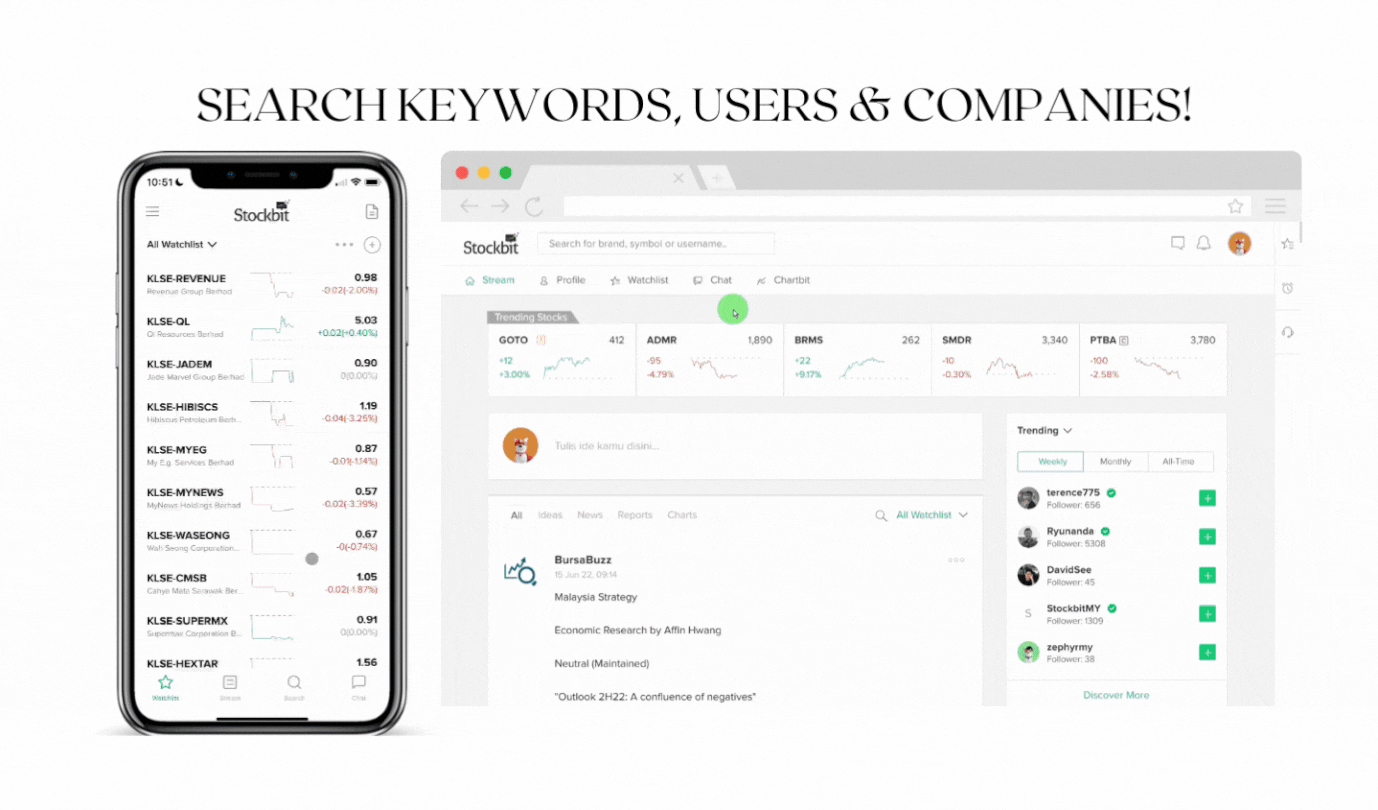 CASHTAG
Whether you're an institutional investor or an average retail investor, organising information is crucial. Here in Stockbit, we've come up with a way for you to navigate the hundreds of public companies listed in Bursa Exchange.
Similar to the typical hashtag that you'd use in Social Media, Stockbit is using the "$" symbol to tag public companies. This is a simple but elegant solution for Stockbitors to browse relevant ideas from the community. Through CASHTAG, you can filter through posts on the company's stream feed. Stockbitors can like, repost or comment to engage the community!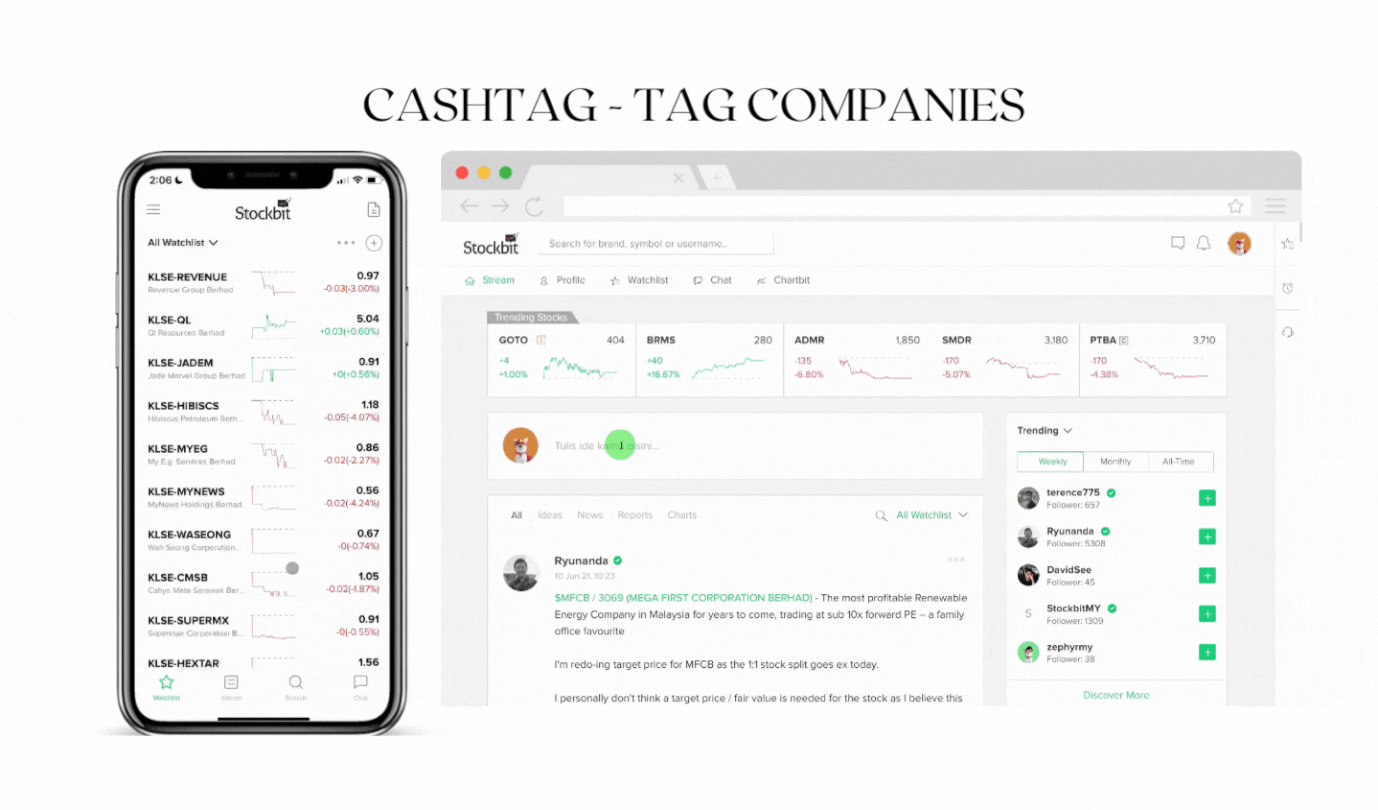 PRICE PREDICTION
Done your homework on a specific company? Do you want to share your price predictions with the community? We've got you covered! Stockbit price prediction tool allows users to post what trading price a listed company will achieve.
Anybody can do this in a post, why is this tool special? We've gone a step further for users to keep track how the company actually performs i.e. John might post a prediction of RM3/share for company A, John and the community can track whether this is true 1months/6months/1year down the line.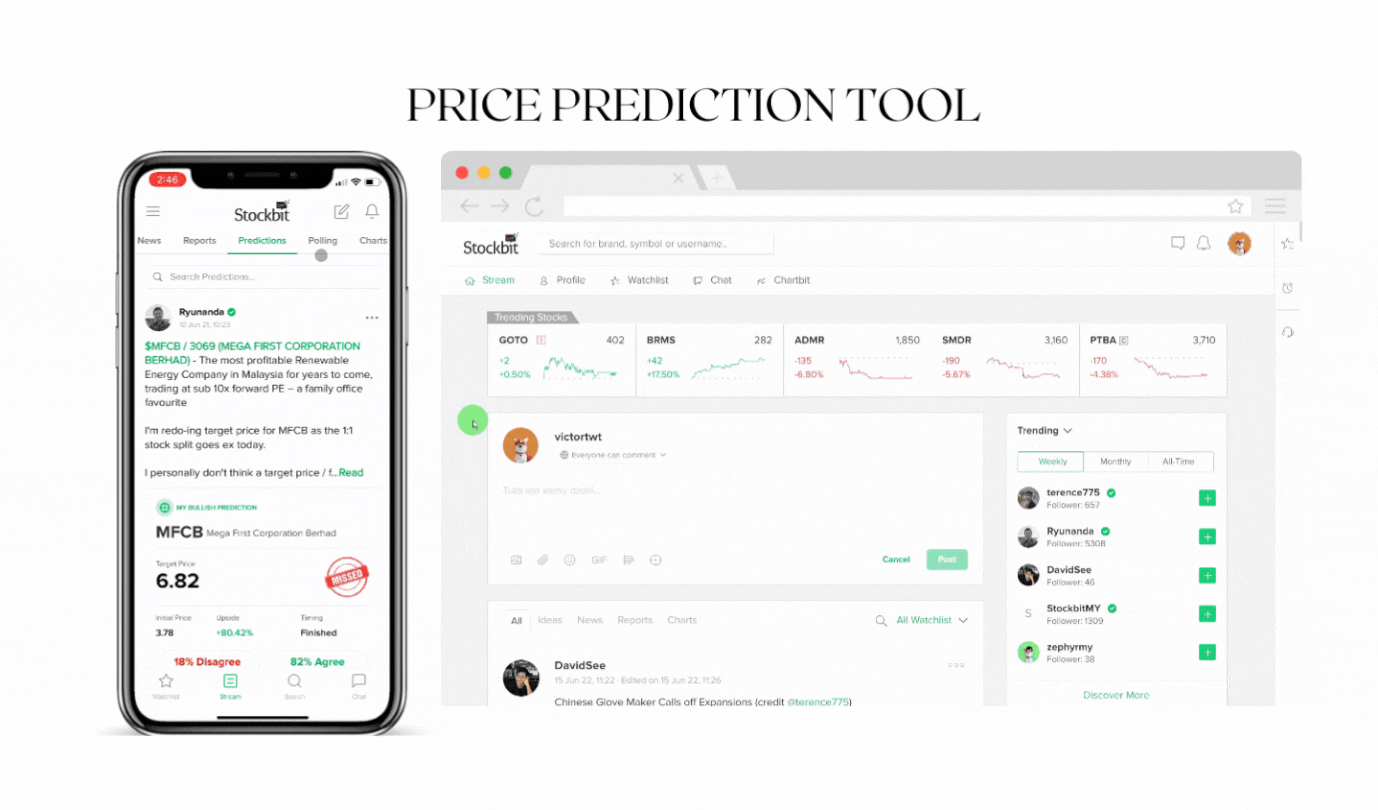 POLLING
Trying to gauge what the market opinion is about a certain topic? Stockbit offers the right tool for information gathering! Use our polling function to find out the community's opinion! Gathering information alone will sometimes lead to personal bias — connect with bright minds in Stockbit to validate your decisions!