How To: Analyse Company with Stockbit
Sep, 26 2022 By Stockbit
Hello Stockbitors!
Welcome to our How-To introduction series. Our series are designed to be short and sweet, it should take no more than 2 minutes to digest this blog. We'll be sharing with you tip and tricks to navigate analyse companies through Stockbit
THE WORKS
There are many factors to consider when choosing a company for investment. As a first-time investor, it can seem intimidating to make a decision. Do you look at past financial statements? What about the company's latest price trends?
At Stockbit, we provide you with all of the financial information you need to make the best choice for investment. We offer financial analytical tools such as Stream & News, Keystats, Financials, and Seasonality to effectively organize information/data for Stockbitors. This helps users like you better understand a company's current and future prospects.
STREAM & NEWS
One of our most essential features for analysing companies is STREAM. Stockbit STREAM is a newsfeed where you can share your thoughts on companies and the current state of the market. Through STREAM, you can look up past financial reports, current news, and trending posts. Stockbit's one-of-a-kind community contributes to the newsfeed by posting their own predictions, ideas, and tips on investing in the market. Users going through the newsfeed gain perspective on the financial data of companies and make better informed decisions about their investments.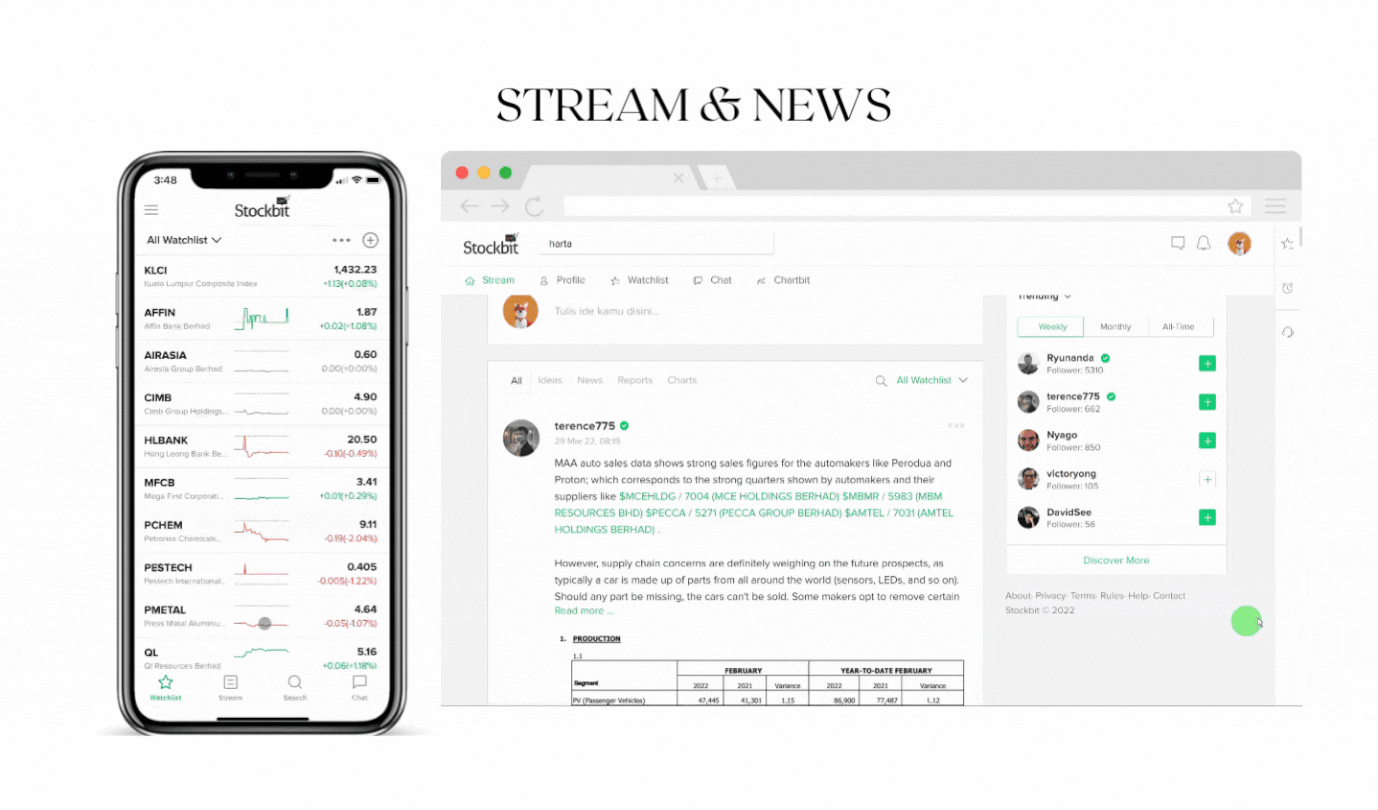 KEYSTATS
Looking to dig deeper into the financials behind your investments? Stockbit's Keystats feature offers you a quick access to key financial performance from a company. We aggregated numbers from company's balance sheet, income and cash flow statements so you can eyeball how the company has been performing in the recent quarter. Keystats makes it easier than ever to analyze a company's performance by providing user with all the financial information they need to make the right investment.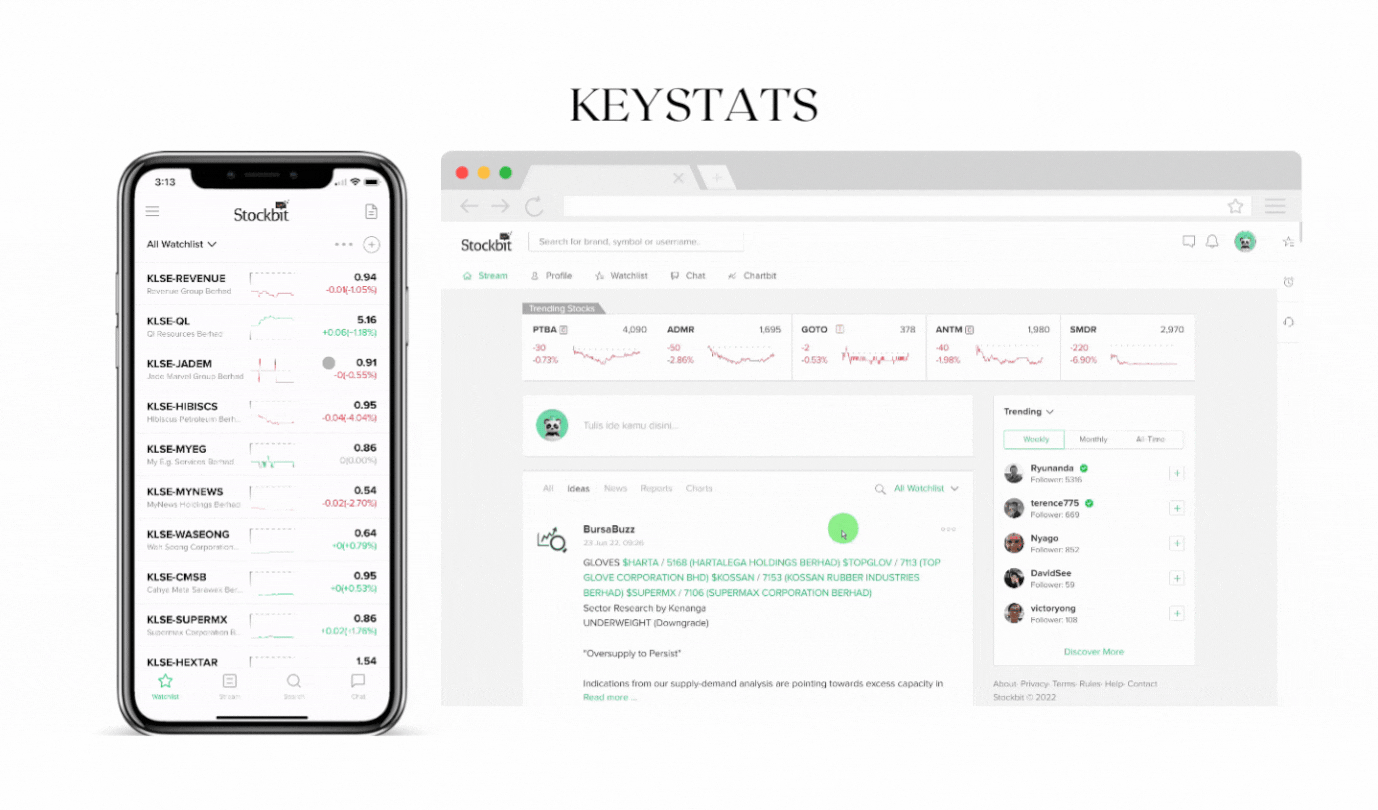 FINANCIALS
Financial information about a public company is typically easily accessible. But we recognize that getting access to ORGANIZED financial information can be challenging for a normal person on the street. Stockbit took a step to ease information gathering by aggregating and organizing seas of financial information by public companies. Stockbit's FINANCIAL enables users to look into the three financial statements: Balance Sheet, Income Statement and Cash Flow Statement.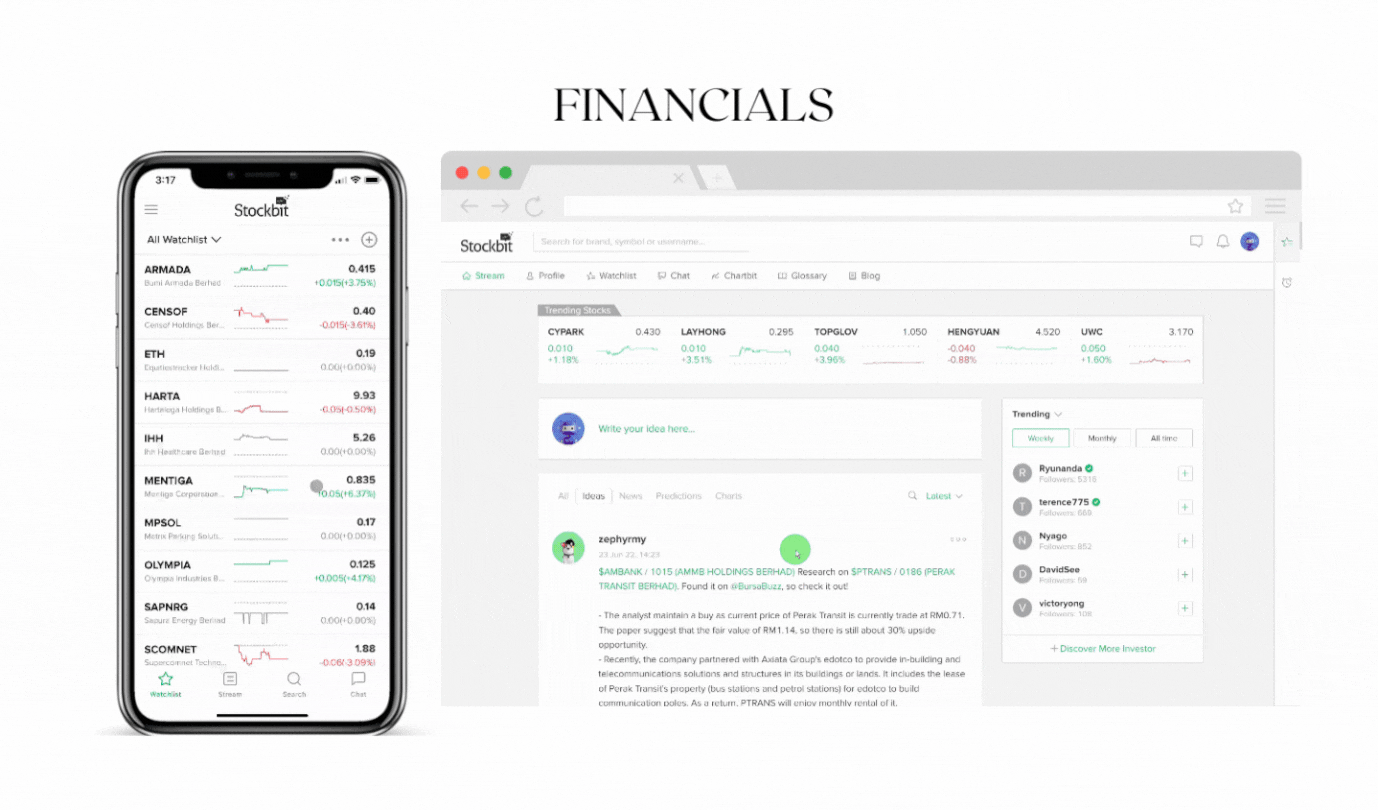 SEASONALITY
Looking at how a Stock has been performing on a graph is usually visually intuitive. However, if you need a quick zoom in of how a company share price has been trending in a quantitative manner - try using our Seasonality feature. Stockbit's seasonality indicates if a company has been trending positively/downtrending in a specific month of the year. The seasonality tool is a simple tool for traders/investors to observe trends.